Course Duration
Approx. 4 Hours
About Course
Take your Profession to the next level with a Certificate.
Study the design, development, and analysis of software and hardware used to solve problems in a variety of business

Computing offers different types of gainful careers

Future opportunities in computing are endless
What you will get to learn
Introduction to Electronic Components, Resistors, Capacitors, Inductors, Transformer

PN Junction diode, PN Junction with forward Bias, PN Junction with reverse Bias, V-I Characteristics of PN junction diode, Zener Diodes, LED

Transistors, Transistors as a Switch, Single Stage Amplifier, Regulated Power Supply, SMPS Power Supply, Logic Families, Parameters of Logic families
Introduction to Logic Gates, Study of basic gates, Universersal Building Blocks, EX-OR gate

Simple combination circuits, Half adder, full adder, Sequential circuits, Shift register, Counters, Multiplexer and De-multiplexer
Study of System Board, Study of CPU Properties Pentium chip, PC Memory (Types, Semiconductor memory and its Types), Types of Memory

Types of Memory, Interrupt and direct memory access channels, Controllers, Video adapter, floppy disk, hard disk controller
Video, Keyboard, Mouse, Floppy Drive, Hard Drive

CD ROM, Printer, Scanner, Multimedia, Sound Card, Modem
Why Choose Us??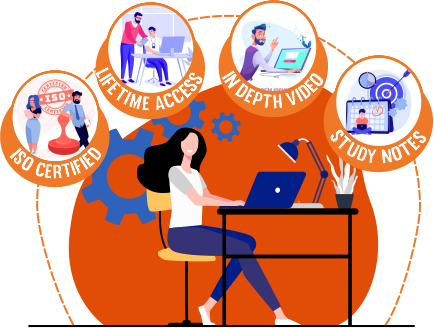 Training by experienced professionals with relevant experience

Master your skills with in-depth training videos

Add ISO Certification in your resume

Lifetime Course Access

Comprehensive study notes prepared by expert faculty in soft copy format