Course Duration
Approx. 12 Hours
About Course
Take your Profession to the next level with a Certificate.
What you will get to learn
Introduction to HTML5

Image in webpage, table tag

Creating hyperlink, Form in HTML

Client side scripting, Variable, Data Types, Operator, Comment in JavaScript

Built-In Function, Event Handler, Feature of JavaScript
Definition of IT and ICT, To understand concept like data and information

Various concepts used under IT and Different types of Operating Systems with its features and uses
Concept of Database, Introduction to DBMS and RDBMS, SQL

Introduction to RDBMS, Relationship in Database, SQL and Categories of SQL Commands
Introduction to Cyber Law, Ethics and Morals

Cyber crime and its examples, Cyber safety and security

IT Act 2000 and Case studies
Why Choose Us??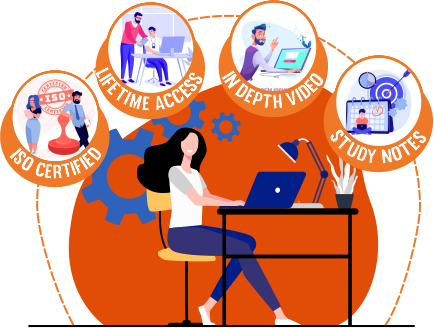 Training by experienced professionals with relevant experience

Master your skills with in-depth training videos

Add ISO Certification in your resume

Lifetime Course Access

Comprehensive study notes prepared by expert faculty in soft copy format