Course Duration
Approx. 4 Hours
About Course
Take your Profession to the next level with a Certificate.
What you will get to learn
Overview of Web Designing and Basic HTML tag

Introduction of Web Publishing and HTML Page Frame

Image Mapping

Attribute of Forms

Inserting Image and Video in webpage, Setting for Window and Cross Browser testing

Introduction to CSS
Introduction to SEO, Types of SEO, Techniques of SEO

SEO Keywords, Social Bookmarketing,Backlinks

Introduction to JavaScript, Feature of JavaScript

Switch case and Looping statement, Break and Continue statement
DOM (Document Object Model)

JavaScript Objects

JavaScript Events
Introduction to PHP, Feature of PHP, How to execute PHP program

PHP Variable, Scope in PHP, PHP Data Types, Comments in PHP

Control Structure in PHP, PHP String Function, PHP Arrays

PHP Function Argument, PHP Form Handling

Get vs Post, Form connectivity with Database, SQL statement and its execution, Cookies and Session
Why Choose Us??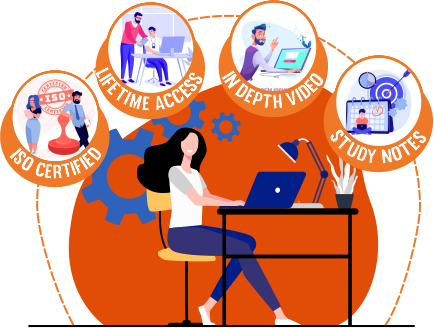 Training by experienced professionals with relevant experience

Master your skills with in-depth training videos

Add ISO Certification in your resume

Lifetime Course Access

Comprehensive study notes prepared by expert faculty in soft copy format