About Advance Excel Course
Master Microsoft Excel from Beginner to Advanced
In this MS Excel course, understand different features and their functions and become certified as a Microsoft Office expert

Get assistance to use Microsoft Excel to analyze data on any level.

Advanced Excel Course Syllabus consists of worksheet formatting including various formatting features and maintaining large sets of Excel data in a list or table.

Learn V Lookup basics & H Lookup basics, lookup functions, and macros-basics.
For Who
Who can opt for Advance Excel Online Course:
Individuals who wish to opt for Advanced Excel Course Online
Individuals who wish to master excel for a career in accounting
Anyone wishes to automate processes for their financials
Why this Online Course??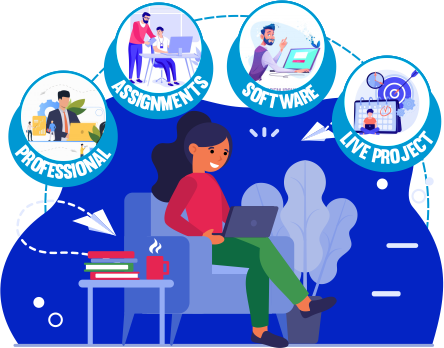 This Advanced Excel Course Online Designed By Experienced Accounting Professionals

Advanced Excel Course Focuses On The Training You To Make You A Professional Accountant

Hands-On-Practice for each topic

Online Advanced Excel Course with Certificate Consists of Practical Case Studies & Practice On Live Projects
Build a solid understanding of the basic to advanced features of Microsoft Excel
Get Started Today and Advance Your Career
Most Of The Office Tasks Relevant To Accounts, Admin, HR, Sales, Purchase, And Many More Are Managed Utilizing Excel.

An Individual With Advanced Excel Skills Plays A Significant Role In The Management Of Information Systems functionalities.

Excel Skills Help To Make Quick Decisions With Its Charts And Graphs Features.
who we are
Hrishi Online Buddhi - One of the Best Online Learning platforms in Mumbai
Hrishi Online Buddhi is one of the best Online Learning platforms in India. Individuals aiming to learn some new marketable skills, tech skills, or want to explore a topic for fun, can opt for our various courses. We serve courses like Business Skill Courses, MKCL & University Certified Courses, IT & Software Courses, and Academic Courses with easy-to-learn videos. What more? We also offer some Basic Computer Courses for FREE, vetted by leading the company employability and gives access 24 x 7.