Course Duration
Approx. 4 Hours
About Course
Learn Bootstrap and enhance your Web Developer/ designing skills.
Bootstrap enables you to build attractive, responsive websites

With Bootstrap, you can quickly create a website without writing tons of CSS coding lines.

This frontend framework is used to develop modern websites & web apps.
What you will get to learn
1. Introduction, CDN, Bootstrap Files

2. Important Utilities

3. Container and Container-fluid

4. Responsive BootStrap Grid and Grid System

5. Bootstrap Text and Typo

6. BootStrap Colors

7. Responsive Table

8.Useful BootStrap Classes (Buttons / List Group / Progress Bar / Alert / Jumbotron / Image responsiveness )

9. Cards

10. Navs and Carouse

11. Bootstrap Form

12. Modal and Accordion and Tool Tip / Popover

13. Bootstrap Scrollspy
Why Choose Us??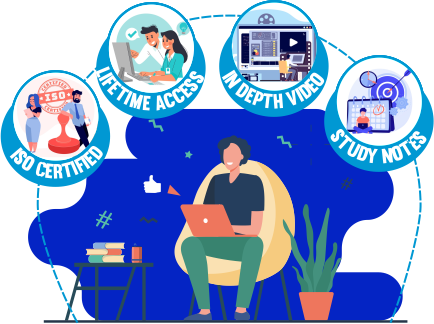 Training by experienced professionals with relevant experience

Master your skills with in-depth training videos

Add ISO Certification in your resume

Lifetime Course Access

Comprehensive study notes prepared by expert faculty in soft copy format