About Online Bundle Graphic Designing (Photoshop + CorelDraw + Illustrator + InDesign + Free Tools) Course
Gain access to multiple placement opportunities
The Bundle Graphic Designing (Photoshop + CorelDraw + Illustrator + InDesign + Free Tools) course offered by HRISHI ONLINE BUDDHI helps beginners learn the know how to create some beautiful design styles using different graphic tools like Photoshop, CorelDraw, Illustrator, InDesign, and Free Tools.

It covers vital topics and designing practices that involve understanding of several concepts such as Photoshop Interface, Color Mode, How To Change Image Background, Introduction to Coreldraw Graphics suite, How to Repeat & Combine Object, How to Design Logo, Document Setup, Template and Artboards, Tool Box, Groups, Layers and Transformations, Working with Style, Working with Graphics, Creating and Using Tables, Information about Canva, Elements of design, Principles of design, Color Theory, Typography and much more.

What's more, this 25 Hours Bundle Graphic Designing Course Online, is also equipped with Practical Assignments that can empower and prepare any Individual to build their dream career in the creative design industry.
For Who
Who Can Opt For This Bundle Graphic Designing Course Online
Individuals who want to become a successful graphic designer and work in various creative industries
Someone with No Prior Designing Experience
Graphic Designer with other Graphics Designing Skills who wish to Rehash their Skills via Graphic Design Bundles
Learn how to become a professional graphic designer and master graphic designing tools with ease!
Why This Bundle Graphics Designing Online Course?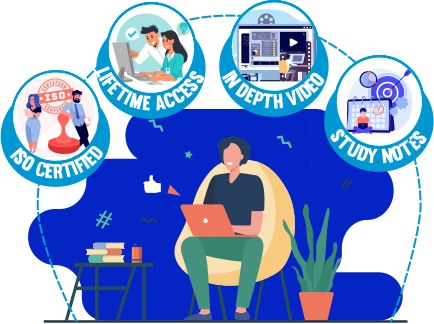 This online coaching ensures that students gain an in-depth knowledge of the subject

Understand each practical example independently

Get a solid foundation in this subject

Training provided by experienced professionals with relevant experience

Lifetime course access
who we are
Hrishi Online Buddhi - One of the Best Online Learning platforms in Palghar
Hrishi Online Buddhi, the best Computer Science Online Classes In Palghar, India, is where students and aspirers likewise can learn top courses online ranging from Business Skill Courses, MKCL and University Certified Courses, IT and Software Courses and Academic Courses. It serves easy-to-learn videos (offers 60+ featured courses on every topic imaginable with 24x7 lifetime access to subscribers) in their courses. The course material is vetted by leading industry experts having relevant experience under the visionary leadership of Mrs. Surekha Bhosale (an Entrepreneur, Mentor, Trainer, Counselor) that guarantees career head-start to aspire goals and dreams, employability promise, and a certificate after course completion which is valid all over India.