About C & C++ Online Course
Master Programming By Learning Step-By-Step With Our C And C++ Programming Course
The C And C++ Programming Course Online Training provided by HRISHI ONLINE BUDDHI assists learners to learn and understand the concepts to every C and C++ topics from scratch to advanced with interactive explanation to examples in the perfect way.
It covers the up to date syllabus consisting in a C and C++ Programming For Beginners To Advance Course that involves C++ Programs, Decision Control Structure (If Statement), Loop Control Structure, Decision Control Structure (Switch Statement and Conditional Operator), Loop Control Structure (Board Paper Question), Function, Pointer, Array, String, Object - Oriented Programming, Classes And Objects, Function Overloading, Memory Management and much more in the C and C++ Language Mastery.
What's more, this 26.5 Hours Online Course is also equipped with Comprehensive Study Notes that can help any Individual who wants to jump-start their career in the area of development, software engineering and programming.
For Who
Who Can Opt For This C And C++ Programming Training?
Undergraduates and Graduates
Programmers switching to C and C++ from other programming languages
Why Learn C++ Programming Language Online Along With C Via Online Training?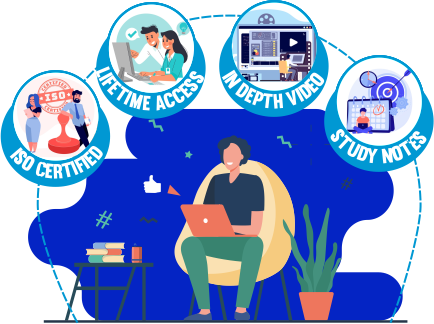 Designed By Experienced Professionals

Hands-On-Practice

Personalized Feedback From The Trainer

Weekly LIVE Doubt Clearing Session To Solve Your Queries
who we are
About HRISHI ONLINE BUDDHI
Hrishi Online Buddhi is among the best Online Coaching Classes in Palghar, India, where students and aspirers likewise can learn from Business Skill Courses, MKCL and University Certified Courses, IT and Software Courses to Academic Courses Online. It serves easy to learn videos (offers 60+ featured courses on every topic imaginable with 24x7 lifetime access to subscribers) in their courses. The course material is vetted by leading industry experts having relevant experience under the visionary leadership of Mrs. Surekha Bhosale (an Entrepreneur, Mentor, Trainer, Counselor) that guarantees career head-start to aspire goals and dreams, employability promise and a certificate after course completion which is valid all over India.