About C++ Programming Online Course
C++ is a powerful, efficient, and fast language. It is often used to create game engines, games, and desktop applications.
Obtain the fundamental concepts of programming

Learn C++ utilizing a proven curriculum that covers all the essential content like Classes and Objects, Function Overloading, Memory Management, Constructor and Destructor, Operator Overloading, Inheritance, and Working with Files.

Gain skills for optimal logic and converting that logic into an effective code in this C++ Programming Course for Beginners.

Jump-start programming career while utilizing industry-standard language features to develop impressive projects.
For Who
Who can opt for this C++ Programming Online Course
Students Pursuing IT Degree Courses
Anyone Wish to Learn C++ Programing Language
Programmers Want To Make Their Programming Base Strong
Individuals want to make Career in Information Technology
Join the Path to Greatness
You will quickly learn the C++ Programming Language by learning the essentials of the language.

Get different approaches and perspectives regarding using C++ as a professional.

The course focuses on preparing the student to program in C++ Programming Language with the minimum expenditure of time.
Why Choose Us??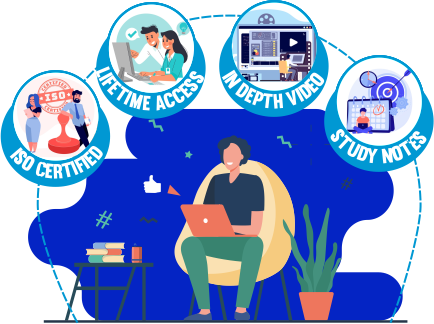 Training By Experienced Professionals With Relevant Experience

Master Your Skills With In-Depth Training Videos in this C++ Programming Classes Online

Add ISO Certification In Your Resume

Lifetime Course Access

Comprehensive Study Notes Prepared By Expert Faculty In Soft Copy Format
who we are
Hrishi Online Buddhi - One of the Best Online Learning platforms in Mumbai
Hrishi Online Buddhi is one of the best Online Learning platforms for Students in India. Individuals aiming to learn some new marketable skills, tech skills, or want to explore a topic for fun, can opt for our various courses. We serve courses like Business Skill Courses, MKCL & University Certified Courses, IT & Software Courses, and Academic Courses with easy-to-learn videos. What more? We also offer some Basic Computer Courses for FREE, vetted by leading the company employability and gives access 24 x 7.